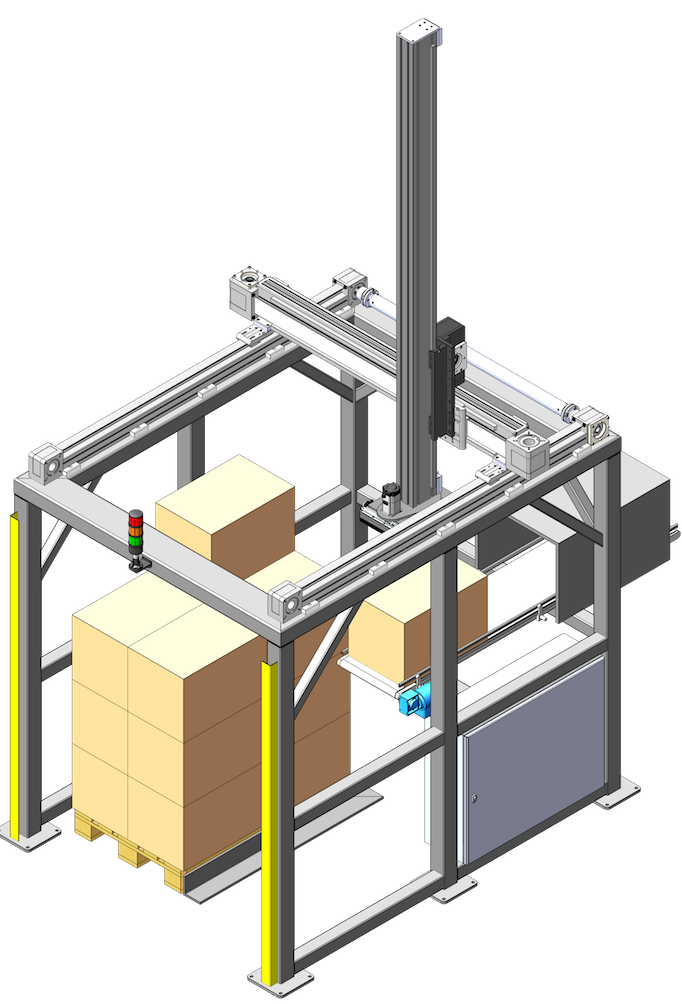 The MAB-PAL automatic palletiser: simple, efficient, flexible and reliable.

The automatic palletiser by Cartesian robot 40 Kg; for cartons, parts, bags and many others. From one pallet, up to 10 pallets or more on request.
The MABIN palletising system boosts your productivity and improves working conditions. The palletising robot can also depalletise.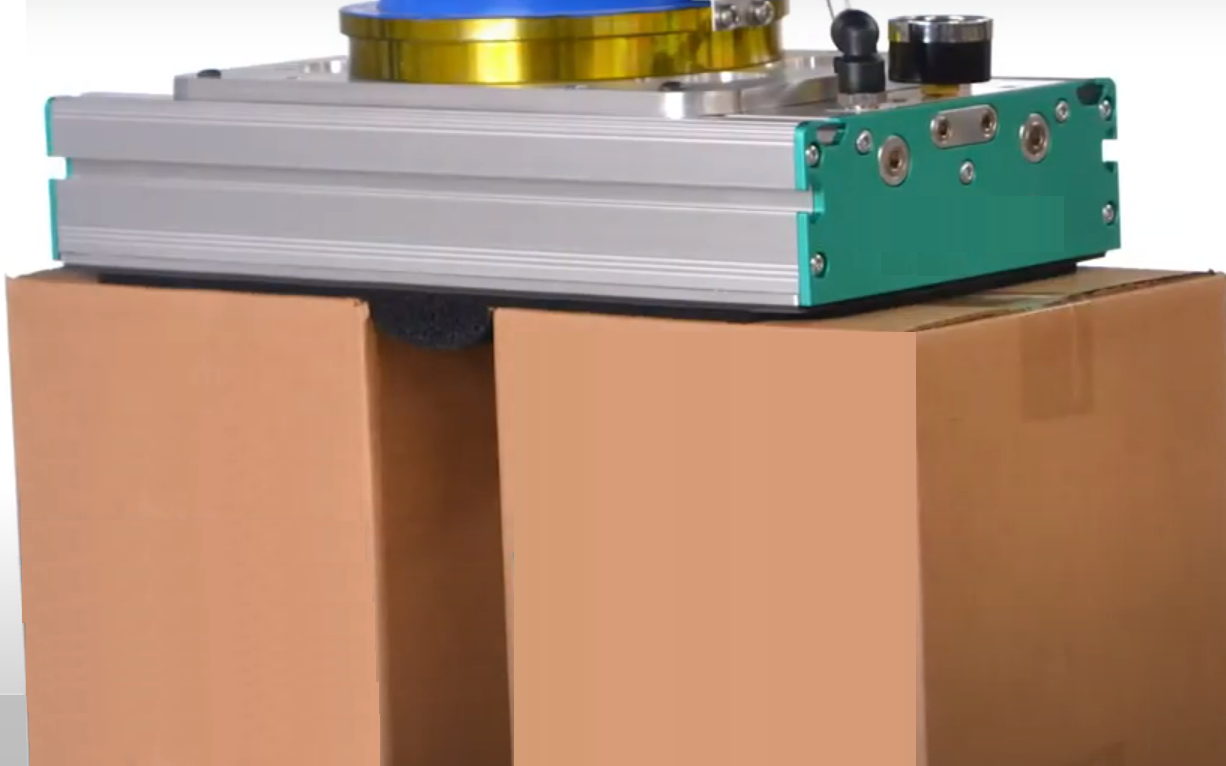 from 6 cycles per minute, a complete solution including :
simple and customisable programming via an intuitive Human/Machine Interface
a Cartesian robot for our precise, fast, reliable and robust palletiser
a gripping hand adapted to your project
a motorised belt conveyor
a grey painted welded structure from an 800 x 1200mm European pallet position

Plug & Play
The robot is quickly and easily installed in an existing production environment. The robot is tested before delivery using your products and pallet models.

Large pallet capacity
Up to 4 pallets as standard with the same robot and a pallet height of 2600 mm to optimise transport.

Customizable
All our machines are customizable to your needs, habits and projects.
Highlights
Boost your productivity, with Mabin.
Reliable, solid, and of French quality:
---
designed and assembled in France, in Vendée
local and trusted suppliers
quality and durable materials
low energy consumption
small footprint
Flexibility & agility:
---
Wide variety of sizes of boxes, cartons, bags, etc.
Optimised footprint that fits on all lines
adapts to the speed of your line with repeatable speed and accuracy
1 pallet 800 x 1200mm ou 1000 x 1200mm ou 1200 x 1200mm
palletising height(z) : 2400mm
horizontal strocke (x) : 2000mm
transversal stroke(y) : 900mm
numerical wrist
cartesian robot with 4 numerical axis
total height: 4710mm
Nota: Transport, installation not included.
Turn Key solution!
---
for palletising
for depalletising
for all types of items: crates, boxes and bags.
for handling parts
from a pallet.
Palletiser
The MABIN solution is a machine with a multitude of services (palletisers and depalletisers): a simple and user-friendly HMI, remote assistance, appropriate staff training, and a ready-to-use solution delivered directly to your production site. Mabin provides a turnkey solution and supports you throughout the life of the product.
Download technical data.
Find out more about the highlights and technical features of Mabin's MAB-PAL Cartesian robot palletising system.
Automatic palletiser - Cartesian robot - mabin

Mabin - Automatic palletiser, automatic carton erector and integrator of Cartesian robot, gantry robot, autonomous mobile robot (AMR) and collaborative robot (Cobot), turnkey solution of industrial robotics in France, Vendée and Pays de la Loire.
Mabin is a supplier of turnkey robotics and automation solutions and integrator of Cartesian robots, gantry robots, autonomous mobile robots and collaborative robots.
Mabin also offers its services for the supply of specific gripping hands, industrial robot grippers for all types of solutions and industrial robots.
Mabin offers a standard solution that can be adapted to your automatic palletiser projects.